Discover more from Sala
An invitation to the curious ones by Scharf studio
Notes taken: Gabriela Hearst
Field notes from a visit to the brand's flagship in New York.
985 Madison Ave, New York, NY 10075 — NYC flagship 
Hi! Following up on the last post in the series, these are notes from a field expedition to Gabriela Hearst flagship in a journaling format. 
Quick Intro
Ranch life and an innate connection to nature. Gabriela, the creative mind, has created a unique niche in the fashion luxury world, where her eponymous brand represents the intersection of artistry, environmental responsibility, and timeless elegance. 
The brand Gabriela Hearst was founded in 2015 and quickly rose to prominence—often and fairly placed near established brands such as Loro Piana and Hermès. Each product reflects a harmonious blend of her Uruguayan heritage and her cosmopolitan sensibilities, heavily influenced by NYC, where she lives. The result: designs that are both understated and opulent. 
Gabriela Hearst's distinctiveness in the creative realm stems from her unwavering commitment to sustainability. Her collections prioritize environmentally responsible practices and ethical sourcing—what sets her apart is her ability to establish precise sustainability objectives tailored to her brand's ethos and products.
In 2021, she assumed the role of creative director at Chloé while continuing her work with her own brand. By disseminating her eco-conscious values, she significantly influenced one of the most esteemed luxury fashion houses. Although she has recently left Chloé, her impact remains.
With Gabriela Hearst, fashion enthusiasts discover more than just stylish garments; they find a brand and a person committed to shaping a more responsible and beautiful world through the art of fashion.
Sensory Inventory
Before talking about the visit, I invite you to recreate the space in your mind, with some notes of the senses:
Sight: Abundant yet gentle natural light, in perfect balance with artificial light. 

Smell: Probably from the perfumes being sold, a powerful clean smell.

Sound: No music, but the street and chat sounds.

Touch: Overlaid raw wood tones. Quilted fabrics. Raw fabrics.

Taste: Nothing was offered.
Keywords: warm, genuine, touch-appealing, homey, rich. 
The visit
I visited the store right before attending the 92Y event where fashion veteran Fern Mallis interviewed Gabriela Hearst, during New York Fashion Week. The facade of the block's buildings was undergoing renovation, affecting the first external impression, a genuinely New York chaos.
Nestled within Carlyle House at 985 Madison Avenue, this boutique is a testament to the designer's commitment to beauty as much as sustainability practices. With no security guards at the door, I opened it myself.
Upon entering, one is immediately struck by the abundance of natural light that bathes the space. The floors are a stunning fusion of reclaimed oak and marble parquet damier, untreated, preserving their raw, authentic beauty. 
The boutique's interior is a masterpiece of serene, neutral tones that create an atmosphere of refined elegance. There were no mannequins or excessive hanging racks cluttering the space; instead, the focus was on creating an environment centered around comfort. Sumptuous furniture graces the space, and the seating arrangements are the result of a creative collaboration with Autoban. 
Sidenote, Gabriela later shared in the interview that the construction process of this store achieved an impressive 90 percent recycling rate for waste materials—from the lighting fixtures to the display, everything was very authentic and aligned.
An idyllic vision: I felt like I was in the living room inside a walk-in closet overlooking Madison Avenue.
In terms of brand communication, the system is entirely applied in codes and omnipresent. That is, brand colors are the raw tones of the materials used in the interior, and the ability to layer (as opposed to a particular, iconic brand color—think Tiffany blue). It is worth highlighting the choice of a specific metal tone that is applied to the storefront logo, the building's facade, and the interior details.
When entering, at first you see the clothes, and as you move towards the interior, you see more clothes on racks, the sofa with magazines and books available, works of art, and clothes highlighted in niches. Then, the brand's two perfumes were made in partnership with Fueguia, a Patagonian niche perfumery brand. Then, finally, the bags and jewelry. A private room can be seen through the tinted glass on the innermost wall—I suppose it is for a select clientele.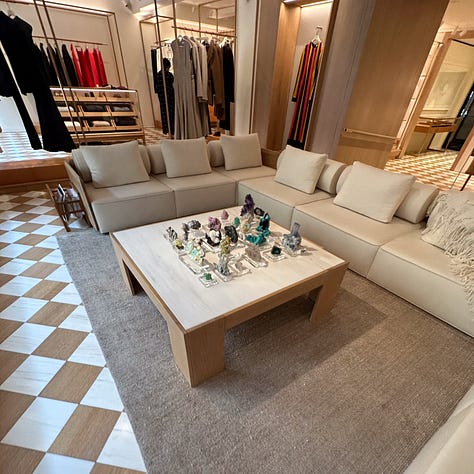 It is intriguing and somewhat courageous to place less expensive items as the last point on the visiting route. That is, presenting the product pyramid in reverse: show the products with the highest concentration of aura, the brand's differentiating factors, and then show them with a lower ticket. 
Besides me, there was another customer, a woman trying on clothes. In this case, trying on clothes throughout the store, as if it were actually a closet. I imagine this is one of the main customer profiles: a middle-aged woman, with a strong accent, but who couldn't place her place of origin. She looked and carried herself as being extremely wealthy. That's when I felt it was time to leave.
Souvenir
This store experience and interior design definitely don't follow the book like the others, it is clearly focused on its own needs. Also, it is aesthetically unique, in a gentle and powerful way. 
---
What did you think of this edition? Do you have thoughts to share about Gabriela Hearst flagship? Send us a DM, we'd love to hear from you!
Signing off,
Ísis
---
If you liked this subject, we recommend: